Leyland van hire is temporarily closed
We aren't taking any future bookings at the moment.
Leyland self storage is open as normal
We aim to offer a quality service at a highly competitive price.
We have a large fleet of vehicles available, ranging from Short Wheel Base Transits, up to Luton Box Vans with fitted Tail Lifts.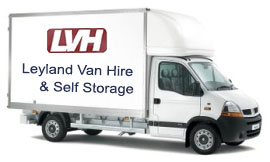 Hiring from us to move your home or office is one of the easiest ways to save money and time when you need it most.
We have the ideal choice of vehicle types for DIYers, many with tail lift options to help save on the lifting.
All our vans are covered by the AA and are regularly serviced.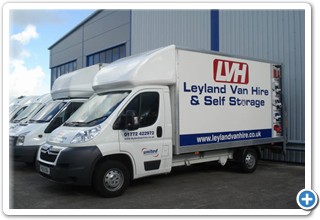 We are conveniently located close to the M6 motorway network in Leyland.   
We accept payments from major debit & credit cards including Mastercard and Visa, with no additional fees.
What do I need to take to collect the vehicle?
When collecting the vehicle the principal driver will need to bring their full UK driving license and a credit card in their name. It is often useful to bring a further means of identification - e.g. a passport. 
A refundable deposit of £100 is required on collection.
Important: From 8th June 2015 we need two items to validate your driving licence:
Your current photocard driving licence
A code issued to you by the DVLA share licence details scheme.
Note: The code from DVLA is case sensitive and valid for 21 days.
Click here for the DVLA licence page
See our driving licence page for more details.
Two forms of identification. These must show a local area address, eg: recent utilities bills, bank or building society statements, dated within the last 6 weeks. A passport is also acceptable.  
We don't think you will find a better deal.
so give us a call : 01772 422972
Call in and see us:
Unit 8E, Centurion Court, Off Wheelton Lane, Farington, Leyland PR25 3UQ.
General
Every endeavour is made to supply the class of vehicle booked. However we reserve the right to offer an alternative vehicle where this is not possible.
No Animals are allowed within any Leyland van hire vehicle, this will invalidate your insurance. We have a duty of care to future Hirers of the vehicle who may suffer from illness or allergy brought on when coming into contact with animals.
Any contents within the vehicle whilst on hire are the responsibility of the hirer and are not covered by Leyland van hire or the vehicle insurance.
The vehicle is only to be used in England, Scotland and Wales, and not to be taken off the main land without written permission from Leyland van hire.
The Hirer is responsible for abiding by the Highway Code and UK law. Any Fines, Parking fees, Congestion charges, Court costs, Traffic offences etc. are the responsibility of the hirer. Leyland van hire reserves the right to charge any such costs to the Hirer together with an administration fee, court costs and interest, following any period of Hire